When Ericsson released its Mobility Report back in 2018, 1.5 billion smartphone users were projected to have access to the fifth generation network by the end of 2024. According to the latest edition of the report, due to COVID-19, we are expected to hit the 1 billion mark towards the end of this year.
The outbreak of the COVID-19 pandemic exposed all weaknesses and proved to be a stimulus for increased investment in new technologies. At a time when many organisations decided to switch to remote working and personal contacts are often limited to our smartphone screens, ensuring that as many people as possible are connected to the world has become a priority.
In view of the dynamically changing global situation, the telecommunications giant increased its forecast to 1 billion users with 5G network coverage by the end of 2020. Interestingly, Ericsson estimates that by the time, there will be 220 million active 5G subscriptions, out of which 150 million will use 5G-enabled devices. This is mainly due to the rapid development of the 5G network in China, where one in three smartphones sold in Q2 2020 had 5G support. At the same time, they are very affordable, which leads to service providers trying to outperform one another and the adaptation process moving faster than originally assumed. In China, 5G subscriptions currently account for 11% of the total number of mobile subscriptions. By comparison, in North America they are expected to make up 4% by the end of the year.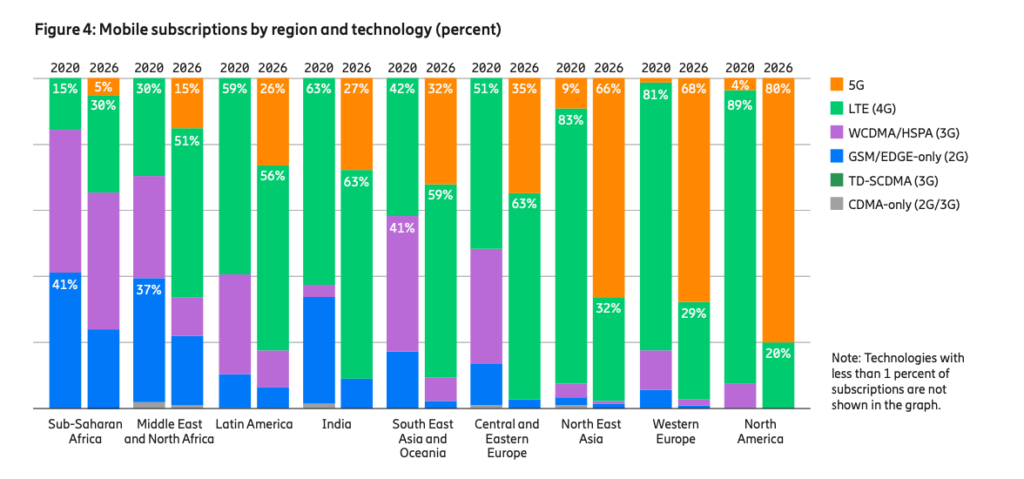 Ericsson's long-term forecast is equally optimistic. The latest report assumes that by 2026, the number of mobile subscriptions worldwide will reach 8.8 billion, 3.5 billion of which will be 5G subscriptions. If the experts' estimates are correct, it would mean that as much as 60% of the world's population will have access to the fifth generation network. They also predict that in the next couple of years, North America will surpass Asia as the global leader, with 80% of all subscriptions coming from that region.
At the same time, Ericsson presumes that LTE will remain the dominant mobile technology during the forecast period. In 2021, it will peak at 4.8 million subscribers, and then decline to reach around 3.9 billion by the end of 2026. This will be related to the gradual transition of users to 5G. In an era when countless myths and conspiracy theories have arisen around the 5G network, will these predictions come true? Only time will tell, although there is no denying that regardless of the direction that new technologies will take, the coming years look very promising.
We also encourage you to read the full Ericsson Mobility Report published on the company's website.
Source: PCMag