Drive Test – Professional Mobile Network Measurements
On RFBENCHMARK.eu you can also find Drive Test type measurements. By using professional equipment it is possible to measure the quality of networks and services offered by mobile operators. The measurements include parameters such as:
signal level,
quality of voice calls – which can't be measured with the use of mobile application,
download speed,
upload speed.
The most interesting parameter measured here is the quality of voice calls. None of the available mobile applications allows for measurement of this parameter! During the Drive Test there are voice calls made between a mobile terminal (tested) and a receiving device (eg. ISDN, another mobile terminal). Test connections can be made to and from the measuring terminal, depending on the chosen measuring sequence. In the measurement the voice quality is assessed by a 5-point MOS scale described in the Methodology.
Drive Test allows for very accurate comparison of the performance of mobile networks because measurements are made simultaneously in the same radio conditions with the help of specialised measuring equipment. For details on measurements go to Methodology.
How to enable displaying of Drive Test measurements on the interactive map?
On RFBENCHMARK.eu home page, on the right side of the map there are buttons for selecting sources of measurements: a mobile application or Test Drive. Below, you can choose which of the measured parameters to be displayed on the map.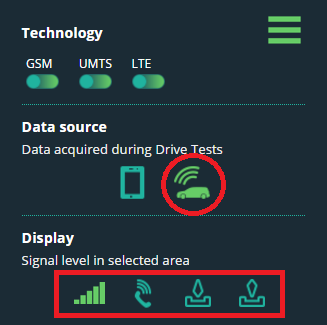 There are more and more Drive Test measurements. Check out the latest made in Minsk!