According to the newest report by Canalys, the leading technology market research firm, shipments of 5G-enabled smartphones are expected to reach 278 million units by the end of 2020. 62% of this number, amounting to approximately 172 million units, is predicted to come from Greater China. North American shipments will make up 15% (42 million units), while EMEA (Europe, the Middle East and Africa) will account for roughly 11% of shipments with 31 million units altogether.
In its forecast report, Canalys also speculates that this year's global smartphone shipments will decrease by 10.7% in comparison to the year before. This number is expected to bounce back in 2021 with projected annual growth of 9.9%, at which point over 1.3 billion units will be shipped out worldwide. The firm attributes massive shipments of 5G devices in 2020 mainly to their ongoing commercialization in mainland China.
The average selling price of 5G devices in Europe is projected to be on the decline over the next several years as Samsung and Apple continue to outperform their competition. It is expected to drop to $765 next year, and then to gradually decrease to the level of $477 by 2024.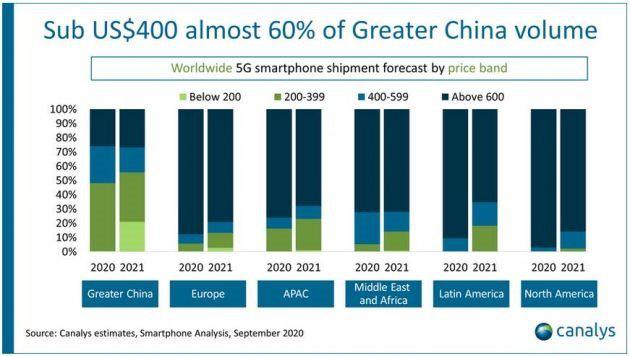 It is noteworthy that while at the beginning of this year, there weren't any 5G-enabled devices priced below $300 on offer, there are now various smartphones available on the market that cost under $250. The cheapest one to date is Realme's latest release – the Realme V3 5G that currently retails for under $150 in China and is the first 5G device to enter the rapidly progressing low-end smartphone market.

Source: Canalys