Fading, shadowing and more – radio transmission problems part. I
Radio transmission is an efficient and so far the only way for wireless transmission of information. Examples of the use of the radio communication:
– army (battlefield situational awareness, shortwave radios, transceivers, radio stations…)
– TV (radio links, satellites, live transmission…)
– IT (WiFi, WiMax, Bluetooth…)
– telecommunication (mobile networks, satellite communications…)
– broad amateur radio.
Unfortunately, electromagnetic wave is not perfect. Many problems may experience during the radio transmission. The most common problems with the transmission will be discussed for example of the mobile network. In addition, we will define how the mobile network user can "feel" problems with radio. Each issue will be discussed separately, the first is path loss! 🙂
Path loss – attenuation in free space
Path loss occurs when the received signal becomes weaker due to the increasing distance between the mobile satellite (MS) and base station (BS).This phenomenon occurs even there are no obstacles between the transmitting and the receiving antenna. Broken connection due to the high attenuation is rarely observed, because before the signal reaches a critically low level, a call is placed to a different BS, in which higher signal level has been measured (inter-cell handover). But if we are in the total backwoods and there is no better cell near us than that of our location, then due to lack of reception a dropped call will occur.
Dropped call – cutting off a voice call; in reports of measurements it is determined as the ratio of dropped calls (Dropped Call Rate [%]), which informs about the percentage of dropped calls for all executed during, for example, Drive Test.
Engineers use the following formula for FSPL (Free Space Path Loss, Lp) to predict the attenuation that may occur between the transmitter and the receiver in free space.
Lp [dB] = 20 log10 (4πfd/c)
where:
f – frequency of the transmitted signal [Hz] d – distance between the transmitting and receiving antenna [m] c – the speed of light (approx. 300 000 km/s).
Below is shown a graphic example for the 2100MHz frequency and ERP power (Effective Radiated Power) equal to 26dBm.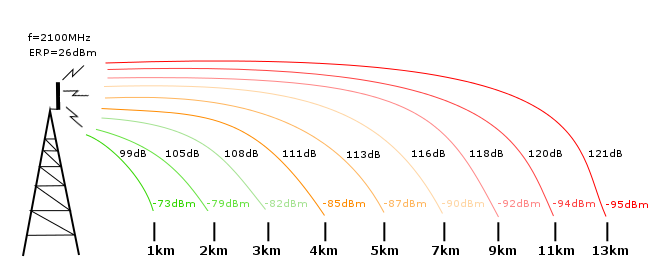 ERP (Effective Radiated Power) – effective radiated power taking into account transmitter power, path loss and profit of transmitting antenna. It is used in the calculation of radiated power from the transmitting antenna relative to a dipole antenna.
It should be reminded that this is the calculation for radiation in free space without taking into account many factors, among others: obstacles, terrain, attenuation of the human body and others. The drawing shows that with increasing distance, the amount of attenuation increases – from 99 to 121 dB. As a result of the attenuation increase of 22dB, the signal level drops approx. 160 times. Assuming that the transmitter radiates with ERP power equal to 26 dBm, the strength of the received signal varies from -73 to -95dBm.
These considerations apply only to free space, for example rural environment. To predict attenuation with reference to the terrain, obstructions etc. partly empirical formulas are used, which are generated by measuring a certain area.
However, there are cases where propagation conditions are very similar. Such a case is urban area. We can say that in every city there is a similar topography and the location of buildings. Appropriate adjustment of parameters allows to gain a propagation model as good as it is only possible for a given type of environment. The most famous two propagation formulas are:
– Okumura-Hata formula (frequency from 150 to 1920 MHz).
– COST 231-Walfish-Ikegami formula (frequency from 800 to 2000 MHz).
In summary, the loss of signal level causes not only visible obstacles, which are located by radio waves. The same distance between the transmitter and receiver results in significant attenuation of the emitted signal. Therefore, in rural environments GSM 900 and WCDMA 900 systems are used, so that, at the same transmission power, wave propagates over a longer distances due to a lower path loss coefficient for lower frequencies.