Idle and connected modes – saving phone energy
Your mobile phone has limited access to electricity. Manufacturers are trying to meet the demands of users by equipping their phones with high capacity batteries.
Today, mobile phone screens get bigger and bigger and users use multiple services and applications simultaneously. GPS, WiFi and used applications make your battery low much faster.
Everyone should have noticed that during phone calls or during the use of the Internet, the battery gets lower much faster. Is this just a matter of additional power consumption by the speaker, microphone or screen? Depending on the needs and current usage, your mobile phone can be in various modes and states.
Using different phone modes allows you to:
– Better use of radio resources
– Better connectivity
– Best QoS (Quality of Service) with the lowest energy consumption.
For example UMTS network can be divided into two modes:
– idle mode
– connected mode
Idle mode is started when you turn on your phone (in UMTS referred to as UE which stands for User Equipment) until you establish an RRC connection In order to make a call or enable packet data transmission (the Internet).
Connected mode can be divided into four stages:
– Cell_DCH (Cell Dedicated Channel)
– Cell_FACH (Cell Forward Access Channel)
– Cell_DCH (Cell Paging Channel)
– URA_PCH (UMTS Registration Area Paging Channel)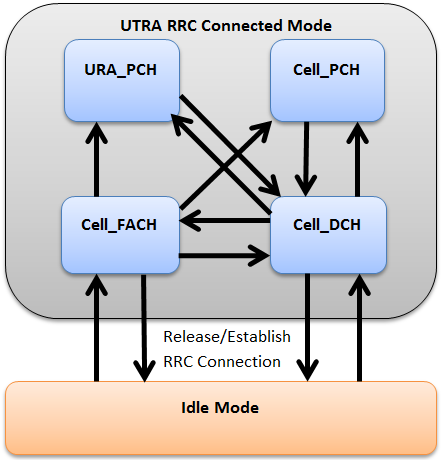 Cell_DCH (Cell Dedicated Channel) is a state in which the transport channel both to download and to upload is assigned to the given UE. This is the state used to support heavy traffic, in particular voice calls, which can not be implemented in a different state, and packet data transmission. It allows for large capacities. However, UE being in this state, even in the absence of user activity, requires large amounts of energy – phone battery runs out quickly. In addition, a dedicated transport channel is busy even when there is no transmission, which means that the number of users in a given channel is limited when the phone remains in this state.
It can be assumed that in the case of no or little activity, the state should be changed to a different state. Going into idle mode is possible, however it is not a good solution when the user is, for example, browsing the Internet. After downloading a given website the RRC connection would be terminated and restoring the previous state, for example, after clicking the link, can cause problems, is relatively time consuming and requires more energy.
In this case, a much better option is to go to the Cell_FACH state (Cell Forward Access Channel) It allows to carry out packet connections with a low data rate using transport channels shared with other users. It is less energy consuming than Cell_DCH and does not require dedicated channels which allows them to be used by users who, for example, need to make a voice call.
Number of users in the CELL_FACH state is also limited, thus terminals staying inactive for a long time should be switched to another state. The idle mode is associated with previously mentioned difficulties with connection. It is preferable to switch UE into the state of CELL_PCH (Cell Paging Channel) which allows to save energy and network resources..
This state it is limited to a monitoring incoming call from the base station. There is no possibility of data transmission. The UE initiates the update of cell transmitter (the area covered by one base station) when changing to another during the movement.
The phone, which often changes the transmitters, will be switched to the URA_PCH state (UMTS Registration Area Paging Channel). This will allow to update the position only if the user changes the URA (UMTS Registration Area), and not at every change of cell transmitter. URA is an area composed of multiple transmitters. It allows saving the battery of the UE, for example, when traveling by car or train because there is no necessity of sending signaling about a change of each cell transmitter.
| | |
| --- | --- |
| | |
| Areas of cells | The area of UMTS Registration Area (URA) – comprises of many cells |
To sum up not only the user can take care of the power consumption of his phone by disabling unnecessary services. First of all, the procedures implemented in the network allow extending the battery life on a single charge. All these activities take place in the network and are transparent to the user.