The phone in your hand and drop in signal strength?
Engineers designing the phones try to meet the high demands of their users. However, not all components of a mobile terminal operate independently from the method of its use.
The best example is the antenna in a mobile phone. If you cover the antenna with your hand, you may cause a decrease in received signal level by up to half of its strength. This is due to the signal attenuation caused by the human body. It is widely accepted that the attenuation of the human body is about 3 dB, which is a decrease of the signal strength by half. Of course, the exact value of the attenuation depends on the extent to which the antenna was covered.
You can observe behavior of the signal level depending on the position of the hand on the housing of your phone. You can observe the number of bars on the screen of your phone approximating the level of the received signal. The exact value of the signal strength in dBm can be learned through our mobile application RFBenchmark – visible in the upper right corner. Covering the antenna can reduce the signal by one bar, depending on the phone manufacturer and the actual signal level.
Currently antennas in mobile phones are placed in the rear part of the housing. Statistical user may be unaware of the location of the antenna in the mobile terminal. There is nothing surprising in this fact because after removing the back of the housing the antenna may still be not visible.
For example:
a) Samsung Galaxy S5: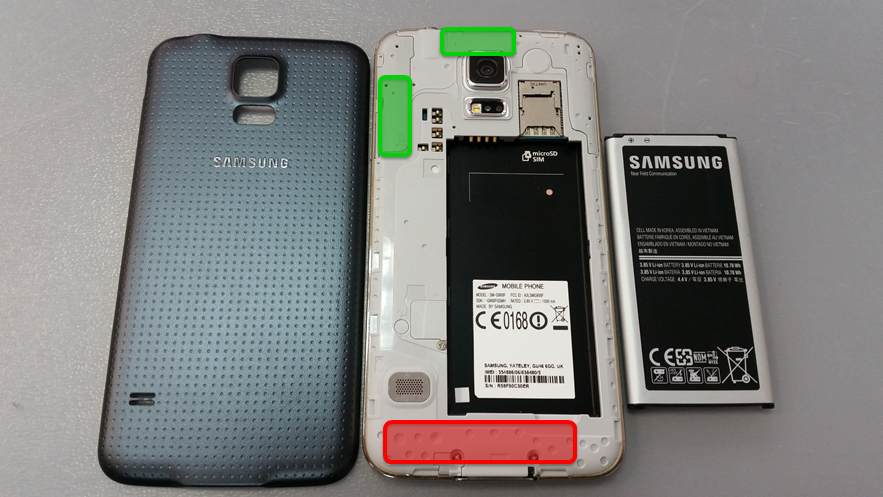 b) iPhone 5s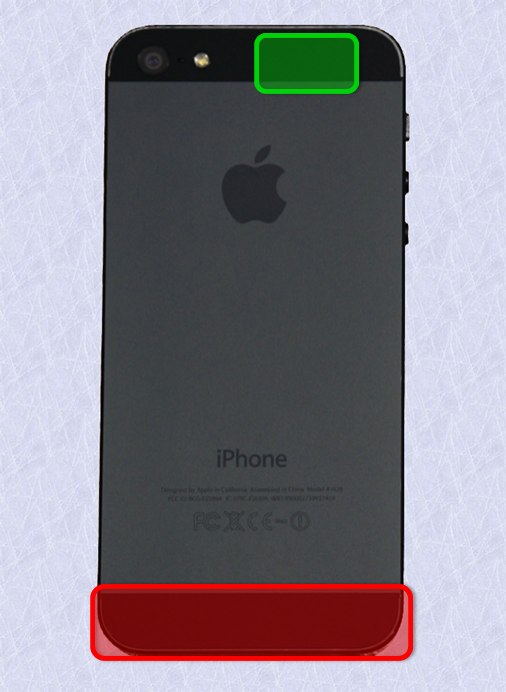 The position of the main antenna used for transmitting and receiving signals in the GSM / UMTS / LTE is marked in red.
For comparison, antennas responsible for the transmission of WiFi signal are marked in green.
In case of using the Internet, the position of your hand on the housing may have an additional negative impact on the level of the WiFi signal. This is due to placement (remoteness) of antennas operating in different technologies in the housing of the phone.
Therefore, you should consciously use the modern mobiles offered today to be able to maximize their potential. Perhaps in case of a problem with coverage all you have to do is just lay the phone in your hand in a different way or use a headset.